Lindemann Engineering:
Suspension Solutions For The Future
The best teams combine complementary qualities into a winning operation.
Suspension guru Jim Lindemann was a genius, an engineer and an artist. Racer and tuner Ed Sorbo is serious, structured and methodical. Together, they created an operation that helps you become a winner.
Lindemann Engineering now is operated by Sorbo, who partnered with Lindemann early in 2011 to create an operation that is taking the company into the future.
Sorbo first started working with Lindemann in 1998, and Lindemann sponsored Sorbo's racing adventures, which have taken Sorbo to the podium of the AMA 250GP class.
"Everything Jim taught me made sense," Sorbo says. "Whenever I followed his path, my bike worked better and I went faster. Turn Six at Infineon Raceway was the clincher for me, Jim exorcised the chatter from my Yamaha YZF-R6. My understanding of the problem was incomplete. Jim could feel the problem and used his understanding to fix it."
Lindemann died of cancer in 2011. Sorbo moved the business into a new location in Southern California.
The Goal: To use the same understanding of suspension dynamics that have always been the hallmarks of Lindemann Engineering to produce the suspension solution you need – and outstanding customer service.
The phone number is, (909) 838-4587, e-mail is ed (at) le-suspension.com.
Our shipping address is:
Lindemann Engineering
700 East Redlands Blvd. Ste U Box 410
Redlands, CA  92373
R.I.P., Jim
About Us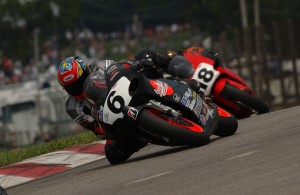 Ed Sorbo
Ed Sorbo has raced around the world – to date, he counts 75 different racing motorcycles and 58 different tracks with an immense amount of success covering four consecutive decades and he's still racing.
Sorbo has racked up five overall club championships and the world 24-hour mileage record for 600cc Production motorcycles. He made a living as an AMA Privateer for six years with a fifth overall in the 2002 AMA 250cc GP championship and a podium finish in 2003.
Sorbo knows the tuning end of the operation as well, having been a shop owner, served as a dealership service manager, crew chief for an AMA SuperStock team full-time from 2004 to 2006 and as crew chief for many AMA racers.
Sorbo knows the operational end of the racing business as well, having worked both with the AMA, Canadian Superbike series, WERA and F-USA as a race official. And he owned the Hawaii Road Race Association.
Sorbo operates his current tuning and personal coaching operation – EDventure Racing from his shop in Southern California, and is often found at race tracks across the Western United States – and beyond.
Lindemann Engineering shares space with EDventure Racing.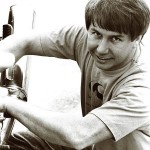 Jim Lindemann, RIP.
Photo by John Ulrich. Copyright 2011 Roadracing World Publishing, Inc., used with permission.
Jim Lindemann started in the suspension business back in the 1970s, working for Fox Shox. His innovative concepts quickly caught on in the world of off-road and on-road motorcycle racing.
With his assistance, riders including Eddie Lawson, Wayne Rainey, Kevin Schwantz and Doug Polen have won AMA Superbike races and championships.
Lindemann's work has helped racers succeed in disciplines ranging from motocross to IndyCars to dirt track.
Working from his personal 1,600 square foot shop, modifying stock components or machining new components from scratch, Lindemann has tuned and developed suspensions for some of the most sophisticated racing equipment on the tracks today.