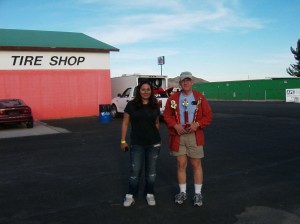 At the Awards Ceremony Tony collected for his Championship in Novice 250 GP.
We had a full house this weekend.
Tony crashed for the first time in 40 years.
Gloria is sorry about causing a red flag from the pits and reports that her surgery went well.
Ninja Twin, Niccole got her groove back.
Jon, trimmed away the extra low tack blue tape around the tech sticker, there by out Eding, Ed. Jon also battled to some of his best finishes ever.
Dave won the EDventure Racing New Racers Race.
Dennis won all three of his races.
EDventure Racing clients are always in the thick of it!