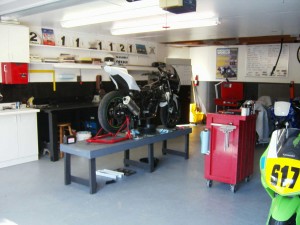 Guy rented a 250 Ninja from RaceBikeRentals.com last year, he had so much fun he went out and bought his own. The time has come to get it ready to race.
The before picture shows Guy's Ninja in my shop.
The purpose of this visit was Race Prep. Rather than just pay someone else to work on his bike Guy and I worked together drilling and safety wiring, installing his transponder, frame sliders and race body work.
I charge the same amount of labor no matter if you help or not but if you help you get to learn how to work on your bike yourself, something that you need to be able to do if you want to have a smooth day at the track.
The after picture shows Guy's race bike back on his trailer Saturday night. Look for Guy at the February WSMC race at Streets of Willow. If you have any questions about safety wire, be sure to ask, Guy is a pro now.