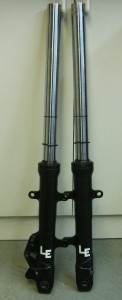 I valve Ninja forks with 15weight oil so you can fine tune your damping by changing to 10 or 20 weight oil.
But getting the oil out requires the forks to be upside down and this is best done with the forks off the bike. For $50 I can go Old School and add Fork Drains so you don't have to flip your bike to change the oil.
The $50 price applies when you have me rebuild and re-valve your damper rod forks for $300 for a total of $350.
For these 300 Ninja forks I also cut the stock springs to get the rate this rider needs for $75. So the total for this job was $425.